Turning Waiting into Health Outcomes
Why and How Telehealth Waiting Rooms Offer the Right Context for Patient Engagement
Fill out this brief form to download your free guide. (All fields required.)
An Electronic Health Record's Virtual Visit functionality offers the holy-grail for healthcare marketing—personalized content with no risk of exposing PHI.
In this guide, we'll explore how the significant rise in telehealth visits due to the COVID-19 pandemic presents a unique opportunity to create a virtual "waiting room" experience that can accelerate the shift from managing your health data to managing your healthcare, and ultimately – managing your health. University Hospitals' Medical Director of Telehealth Dr. Brian Zack and Paragon's Chief Experience Officer Matt Hummel share their insights on how to deliver a more personalized telehealth waiting room experience.
Download this white paper to learn how a fully-authenticated virtual waiting room can be optimized, including:
Statistics around telehealth visits during the COVID-19 pandemic and projections for future usage

How to optimize the waiting room experience in the virtual environment to better drive patient engagement and promote positive health behaviors

Sample use cases for how population and personal health data can be effectively integrated in a fully-authenticated virtual patient waiting room to create a relevant and contextual patient experience

Anticipated and anecdotal challenges, and how to get started
You are protected by our privacy policy. By submitting this form, you are agreeing to receive email from Plain-English Health Care and Paragon. You can opt out of further email from either Plain-English Health Care or Paragon at the bottom of any marketing email you receive.
Do you have valuable content that you'd like to get in front of decision makers at hospitals, health systems, and physician groups?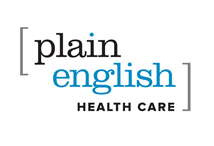 Copyright © Plain-English Health Care