Double Your Search Impact Without Spending One Dollar More
Free white paper published by MedTouch
Most hospital marketers have a sneaking suspicion that some of their marketing + analytics spend goes to waste. But they struggle to pinpoint the source of the problem.
This whitepaper will give you a framework to investigate the effectiveness of your current spend and develop a path to double your impact without increasing your budget one dollar.
We'll explore dynamics unique to healthcare campaigns, provide clear expectations about what results you should expect, and show you how to find reliable third-party data to validate your improvements.

Download your copy and you'll come away with these three critical healthcare digital marketing takeaways:
The fundamental campaign types for healthcare digital advertising


How to choose the best model for your campaigns and set the right KPIs to take control of your spend


Best practices based on years of practical experience to get a comprehensive benchmark and diagnose campaign issues

Embrace these ideas and you can leapfrog ahead of your competition while they continue to spend twice as much on digital advertisements.
Fill out this brief form to download your free white paper. (All fields required.)
You are protected by our privacy policy. By submitting this form, you are agreeing to receive email from Plain-English Health Care and MedTouch. You can opt out of further email from either Plain-English Health Care or MedTouch at the bottom of any marketing email you receive.
Do you have valuable content that you'd like to get in front of decision makers at hospitals, health systems, and physician groups?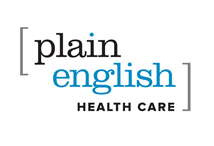 Copyright © Plain-English Health Care