How Does Your Website Stack Up?
Free White Paper from Modea
Decoding Four Key Website Metrics for Healthcare Providers
Your hospital or health system's web analytics tell a story.
It's a story about how healthcare consumers are using your website, and it's told in milliseconds, minutes, and percentages. Inside each of these numbers are the answers to some of the most basic questions marketers have about how visitors behave on a website. Your analytics data both answer questions and point the way forward.
Simply put, your analytics data is how you can measure whether or not your hospital or health system is achieving the marketing objectives your team has outlined.
Download this new report today to:
learn more about four common website metrics that matter to health systems

get real data — averages from a mix of academic medical centers, children's hospitals, and regional healthcare systems — to benchmark yourself against

decipher the story your analytics are telling
Fill in the brief form to download your report now.
Fill out this brief form to download your free eBook. (All fields required.)
You are protected by our privacy policy. By submitting this form, you are agreeing to receive email from Plain-English Health Care and Modea. You can opt out of further email from either Plain-English Health Care or Modea at the bottom of any marketing email you receive.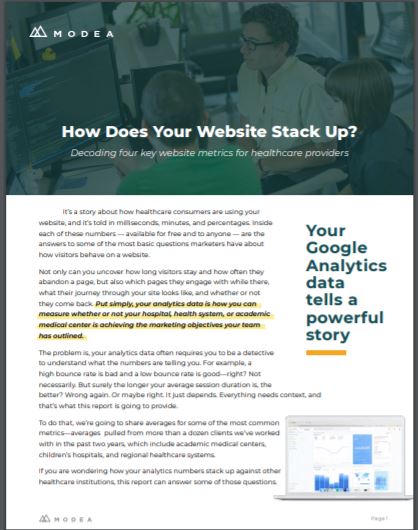 Do you have valuable content that you'd like to get in front of decision makers at hospitals, health systems, and physician groups?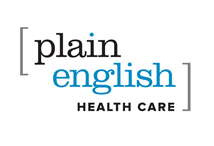 Copyright © Plain-English Health Care